Current Specials
Partagas 1845
Purchase 2 Partagas 1845 cigars and get a free Robusto at the register.  This offer is only good while supplies last.  This excellent Medium bodied cigar is great for enjoying the evening on your deck.
Montecristo White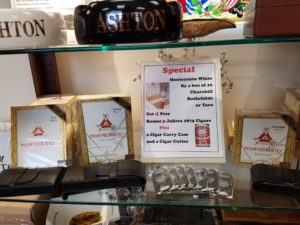 Buy any box of 10 Montecristo Whites in Toro, or Churchill and receive a 4 pack of Romeo & Juliet cigars, a leather cigar case, and a cigar cutter free.
Camacho Cigars
Buy any 12 Camacho cigars and get your choice of a set of branded Pint glasses or Limited Ed. Rock glasses with an Ice Ball Mold.
Buy any 20 Camacho Cigars and get both sets of glasses.